Tech Team Lead (DK)
If you thrive in the mix of executing projects, creating a great environment, and managing people, then you might be the new Tech Team Lead for our web developers.
Grow, manage, and motivate
One of your most important tasks will be to manage 11 Web Developers in the Professional Service department. You will ensure a high proficiency in terms of delivering excellent project implementations to customers by being responsible for coordinating training, and initiating development plans to improve competences.
When delivering a solution, we draw on a range of expertise and you play an important role in our projects. This is where your coding experience comes to play when participating in customer or partner projects. You define best practice on all development-related activities and ensure communication to our Web Developers and Solution Architects.
Your responsibilities
Owner of the development process in Professional Services
People management of Web Developers and Solution Architects
Support and increase the professional level and knowledge of teams and individuals, as well as onboarding new colleagues
Participate in Professional Services management group meeting alongside our CTO as well as DynamicWeb's strategy process
Facilitate scrum meetings for Web Developers and cross-department sparring meetings with our colleagues in Product Development
Planning, prioritizing, and executing tasks and resources in close collaboration with your co-managers in Professional Services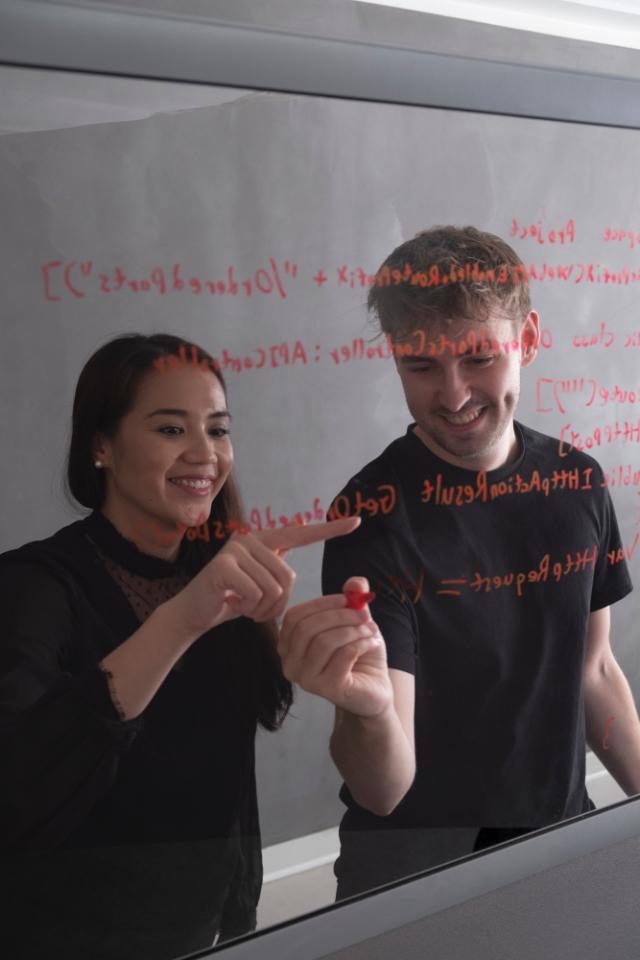 How you succeed
Maybe you already have managing experience or come from a position as lead developer? Either way, this is your chance to use your experience and personality to create an inspiring environment and help our project department succeed.
We imagine you:
Have a strong and consolidated background as a C# developer
Have experience with customer projects, preferably within eCommerce
Can act as a professional sparring partner and mentor
Knows how to create and support a thriving work environment with high employee satisfaction and pride
Your team
Professional Services consists of project teams as well as consultants who work closely together to ensure top-notch (co)deliveries alongside our partner and our direct customers. You will refer to the COO and be part of the service and operations management group.
You will join us at our HQ in Aarhus where 100 great colleagues look forward to welcoming you. We are an informal and fun workplace that likes to be social, whether that being over lunch, a Friday bar, or a game of paddle tennis. And of course – we got you covered in terms of pension, health insurance and flexibility.
What's in it for you?
An opportunity to work in a culture with a winner's mentality with an industry-leading product.
Flexibility in working location & working from home based on where you are situated.
We will schedule and plan the onboarding to ensure you have the right tools to become truly successful. Also, we will introduce you to some of the coolest colleagues in the business. We like to keep things simple and have an informal structure with lots of laughs and events where you can get to know your teammates.
We look very much forward to finding just the right colleague
If this is you, reach out and send us your resumé as soon as possible.
Do you have any questions or are curious, please contact COO, Thea Schmidt Borgholm at tsb@dynamicweb.dk
Our company
DynamicWeb offers an industry-recognized, cloud-based eCommerce Suite. We enable customers to deliver better digital customer experiences and to scale eCommerce success through our Content Management, Digital Marketing, eCommerce, and Product Information Management solutions.
We are a software company building online platforms for the people behind eCommerce. DynamicWeb's 200+ partners, 150+ employees in offices all around the globe are proud to support well over 4.000 brands. That is why you will be working closely with some of the best Product Managers, Software Developers, Sales, and Marketers because although we are 100+ employees, our mission is the same, making software simple and accessible.
Our HQ is in Aarhus, Denmark, but we have offices all over the world, and you will be working alongside colleagues in Europe, Asia, and the US.