Student Job / Intern, Unsolicited (DK)
Do you want to work in a dynamic environment where you can bring your eagerness to grow and learn and theoretical knowledge into play?
Become part of a growing software company
You will be part of an agile and international software company consisting of a total of 150 employees who cover Software Development, Software Consultancy, Sales, Marketing, Finance, and HR.
Each of us is committed to our line of work and to ensuring a simpler way of doing online business for the B2B industry.
Our organization has many different nationalities, so the daily routine might just as often be in English as in Danish. You will also enter a period of ambitious growth with a focus on building strong international processes.
Grow to become a success with us
As the organization grows, you have a ton of opportunities to make an impact and influence your time as a Student Worker.
Many of our current student workers have grown from smaller tasks to delivering on key business metrics and meanwhile discovered their passion with us.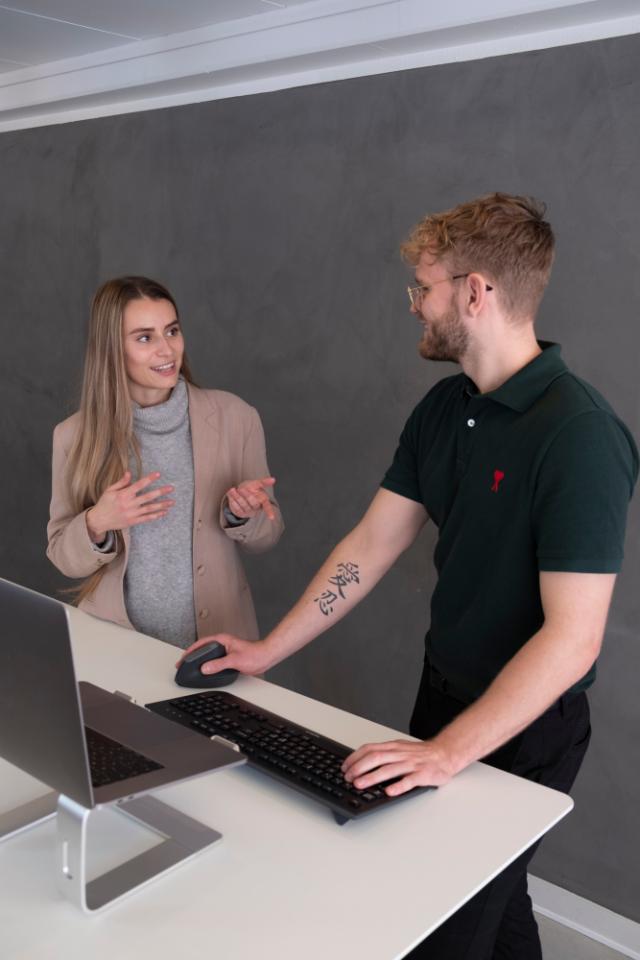 Your experience and competencies
We know you might be worried already about how to contribute, what to say and if you might fit in.
There is only one way to find out. Put yourself out there.
Perhaps you have a few years of experience from a relevant study program or another student job. Perhaps you are studying something that rhymes with IT, Communication, Business Intelligence, Software Development, Marketing Management, or Web Integrated Design?
Either way, we are curious to learn more about you. What do you have to lose really?
We might just give you the opportunity to start a place where you can grow responsibly under an experienced Manager as your direct reference and sparring partner and help you realize your potential.
What's in it for you?
You will be able to challenge yourself, work in an international setting, and discover new ways of using your skills.
You will be working with the best-in-class developers and sales teams, and we have a thoroughly scheduled onboarding plan ready to introduce you to some of the coolest colleagues in Aarhus.
We like to keep things simple and have an informal structure with lots of laughs and events where you can get to know your teammates. We offer free lunch, Friday bars, and employee benefits. Best case scenario, you'll be offered a student worker job and full-time employment when you finish your studies.
We do Digital Solutions
DynamicWeb offers an industry-recognized, cloud-based Digital Platform. We enable customers to deliver better digital experiences through our Content Management, Digital Marketing, Ecommerce, and Product Information Management solutions.
DynamicWeb's 300+ partners, 150+ employees in offices all around the globe are proud to support well over 4.000 brands. You will be working from our HQ in Aarhus, Denmark with some of the best Product Managers, Software Developers, Sales, and Marketers.
Apply now!
Is this the chance you have been waiting for? Apply today and don't forget to tell us why you would be a great addition to our team – we look forward to hearing from you! If you have any questions, please contact Steffie Lund at +45 60731811.
Working hours: That depends on you and the task – most of our current student workers are in the office from 8-16.00 two days a week. During exam periods probably less.
Location: Bjørnholms Allé 30, 8260 Viby J, Denmark.