Back End Developer (DK)
Elsker du C#? Vil du være med til at udvikle nogle af Europas mest moderne eCommerce løsninger i .Net?
En mulighed for at få indflydelse på fremtidens web udvikling
Du kan se frem til en hverdag, hvor du bliver ansvarlig for at udvikle ny funktionalitet, features og integrationer til en software platform anvendt af webudviklere verden over. Du kommer til at indgå i et agilt team, hvor vi løbende forbedre og sikre relevansen af en moderne eCommerce platform.
Dit team – din hverdag
Du bliver en del af et produktudviklingsteam, der udvikler ny eCommerce-funktionalitet. Du bliver en del af vores 25-mand store software team, som står for udvikling og vedligehold af en platform, anvendt som tredjepart system for tusindvis af brugere verden over. Vi arbejder tæt sammen med vores Professional Service og Customer Care team og bistår således vores partnere og direkte kunder via opsætning, uddannelse og service i deres webimplementering.
Vores arkitektur er baseret på HTML, CSS og JavaScript, som er en del af DynamicWebs egen platform, som er bygget i .Net og C# med Dynamics NAV, BC, AX og CRM som bindeled.
Platformen ligger på Microsoft SQL Server. Vores opgaver og tid er styret via Microsoft VSTS og GIT og vi arbejder i Visual Studio for at sikre en lækker front end.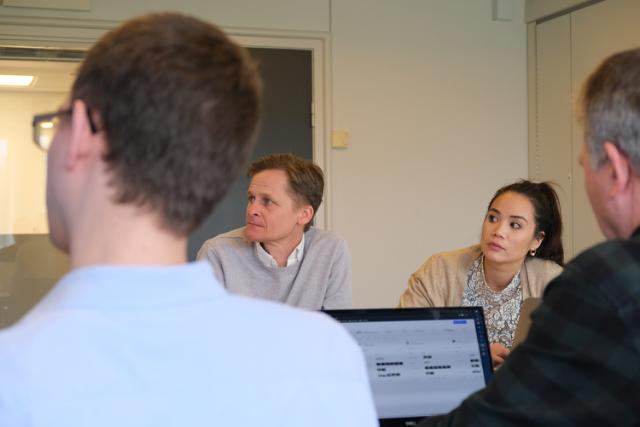 Din personlighed er vigtig for os!
Det er vigtigt for os, at du har det godt hos os og du kommer til at passe lige ind, hvis du:
Er nysgerrig og selvstændig i din søgen efter viden
Kan lide at arbejde selvstændigt, men sætter pris på at debattere features og kode
Deltager aktivt i sociale arrangementer og er god til at række ud til dine kollegaer for spørgsmål og information
Vi tilbyder
Du kommer til at arbejde med dygtige udviklere, og bliver en del af et miljø, hvor vi afvikler tech-talks og daglig sparring på tværs af mere end 50 in-house udviklere. Vi arbejder med et af markedets førende løsninger indenfor CMS og eCommerce. Vi sikrer en onboarding, der giver dig det bedste afsæt for succes. Du kommer desuden til at arbejde sammen med Danmarks måske flinkeste kollegaer i en uformel struktur med et afslappet og humoristisk arbejdsmiljø. Derudover har vi en PlayStation, kantine, frugtordning, fester og brætspilaftener.
What's in it for you?
An opportunity to work in a culture with a winner's mentality with an industry-leading product.
Flexibility in working location & working from home based on where you are situated.
We will schedule and plan the onboarding to ensure you have the right tools to become truly successful. Also, we will introduce you to some of the coolest colleagues in the business. We like to keep things simple and have an informal structure with lots of laughs and events where you can get to know your teammates.
Om DynamicWeb
DynamicWeb er et softwarehus, som udvikler en cloud-baseret digitale platforme, altså de hjemmesider du normalt shopper børnetøj, værktøj eller lignende på. Vi sikrer, at vores kunder leverer bedre digitale kundeoplevelser gennem bl.a. Content Management, Digital Marketing, eCommerce og Product Information Management løsninger.
Vi er Danmarks største SaaS ehandel leverandør og omkring 150 medarbejdere globalt.
Vores hovedkontor ligger i Aarhus, hvor du også vil have din daglige gang, men vi har kontorer over hele verden og du bliver en del af et internationalt hus med kollegaer i bl.a. Norge, Holland, Asien og USA.
Ansøg
Søg online via vores hjemmeside. Er du blevet nysgerrig på at høre mere om jobbet, er du velkommen til at kontakte Product Development Manager, Steffen Kruse Hansen på sha@dynamicweb.dk. Vi glæder os til at læse din ansøgning.